Ginger Honey Recipe
Honey and Ginger acts as the best treatment for the respiratory problems. Ginger Honey recipe also helps to improve the blood circulation, treating respiratory problems strengthening immunity and cancer. In fact, Honey is the excellent medium to transmit superior benefits of the herbs like ginger to body. Both the ginger and honey have individual health benefits and combination of these two offers more bonuses. Ginger is common herbs currently used for treatment and healing of diseases in most natural way. Ginger is also known for its cardamom and turmeric. Ginger can be consumed with major dishes, beverages as well as medicines. Mixture of the honey and ginger perfectly works with higher wonders in body and it is highly suitable for removing maximum diseases from the body. Here are 2 recipes based on the ginger honey to give a better health condition naturally.
Honey Lemon Ginger Tea:
Feeling achy, Sore throat or Stuffy? Having a cup of Honey Lemon Ginger Tea helps you a lot to feel better even when you have the flu or cold. Heat and ginger will automatically warm you up and steam of bright lemon with potent ginger helps to clear sinuses problems. Ginger and honey works to sooth scratchy throat. When you feel like suffering from making triple batch then keep thermos to sip and you can reheat the Honey Lemon Ginger Tea as needed.
Ingredients:
1 Tablespoon freshly squeezed lemon juice
1 inch fresh ginger root
1 Tablespoon raw and unpasteurized honey
How to Make Honey Lemon Ginger Tea?
Grate the ginger in teapot
Mince ginger with sharp knife
Pour 1 cup boiling water over ginger
Let it still for 3 minutes
Put lemon juice and honey in large mug
Strain the ginger tea in the mug
Stir to dissolve the honey
Add more honey or lemon juice
Few Variations To Add:
Add a dash of nutmeg, cinnamon or cardamom to get warm spice flavor
Use the cinnamon stick for stirring and dissolve the honey
Warm spices adds more flavor
Bit of turmeric feels insanely curative
Add a dash of cayenne – to clear out sinuses
Drink the tasty and fresh Honey Lemon Ginger Tea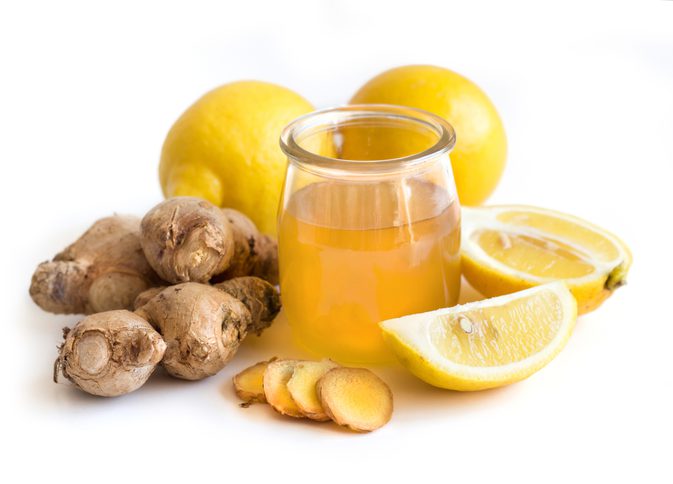 Lemon Honey Ginger Grilled Chicken:
Are you looking for to cook healthy and delicious lemon ginger grilled chicken? Follow each and every step found below to cook a tasty recipe. These ginger honey chicken receipe is perfect for a green salad or wraps.
Ingredients You Need:
4 to 6 chicken breasts (skinless and boneless)
Lemon juice
2 Tablespoons or 30 ml
1/3 cup or 80 ml
Olive oil
1 to 2 cloves garlic, minced
2 Teaspoons or 10 ml grated ginger
1 Tablespoon or 15 ml flat chopped leaf parsley
1 1/2/7.5 ml teaspoons honey
1 Teaspoon
Fresh thyme
1/2 Teaspoon sea salt
1/2 Teaspoon black pepper
How To Make Lemon Honey Ginger Grilled Chicken?
Take the large resealable plastic bag and place chicken breasts
Combine the ingredients and pour it over the chicken
Seal the bag then marinate in the refrigerator (30 minutes to 1 hour)
Preheat Grill for medium Heat
Remove the chicken from bag
Reserve marinade
Place the chicken on light oiled grill grate
Brush with marinade 2 to 3 times during cooking
Cook the chicken until the temperature reaches about 165 F (75 C) at center part of the breast or cook for 20 minutes
Hope you enjoyed the read about a ginger honey recipe.
Buy quality ginger honey from our inventory – Click here.